Loudspeaker mesh, brake pad mesh stamping line to Poland
Precision Metal Stamping Line to Poland
This is a precision metal stamping line which has been delivery and installs to Poland recently. It will be used for stamping loudspeaker mesh, brake pad mesh etc. The metal stamping line equipped with following HongEr equipment: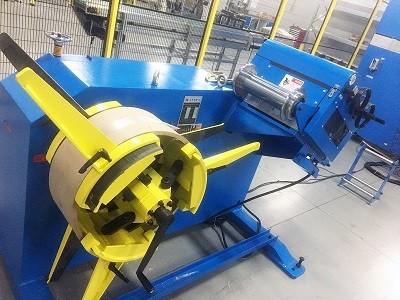 1. Combined decoiler straightener machine
Decoiler Straightener 2 in 1 machine makes decoiling and straightening parts into one unit.
The combined structure guarantees a synchronization between decoiler and straightener and saves workspace.
The model that used for this line is GL-300, precision combined decoiler straightener.
It can decoiling and straightening sheet metal coil width up to 300mm, material thickness from 0.3mm to 3.0mm.
With pneumatic pressure on straightener roller and worm gear adjusting, it can achieve precision straightening performance for many different kinds of sheet metal material.
2. Servo Roll Feeder
Servo Roll Feeder is automatic coil feeder with servo control and pneumatic release.
RNC series can feed sheet metal coil from thickness 0.2mm to 3.2mm, with max. feeding speed 20m/min.
A mounting plate can help the servo feeder install to the press machine easily. And some customer will choose a separate bracket for better stability.
Unlike our standard Yaskawa servo pack and Mitsubishi PLC, this is a customized servo feeder with Siemens control system.
Yes, HongEr can always customize coil handling equipment according to our customer's specific request, pls feel free to contact us if you any special configuration demands for your own stamping line.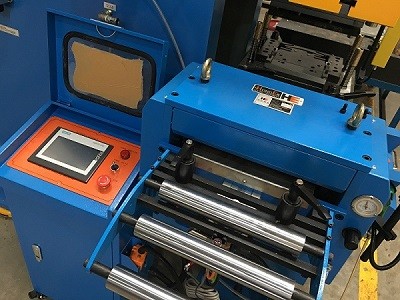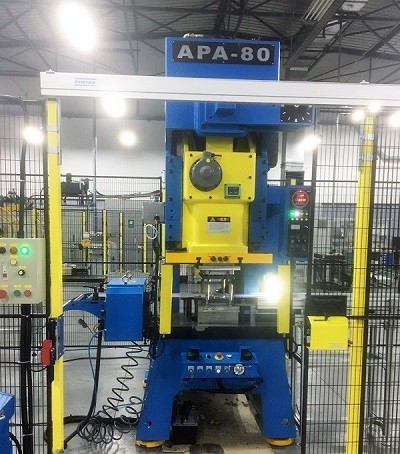 3. Precision Stamping Press
Gap frame press is one of best seller press of our group company.
Rigid frame with less deflection, it operates safely and reliably, with high precision processing to ensure high-quality products.
The stamping press for this metal stamping line is 80ton APA press.
4. Final Products
Loudspeaker mesh, brake pad mesh

5. Project Service
HongEr is always happy to provide our customer turnkey solutions for sheet metal stamping project. As our equipment are running in 50+ countries, our engineers are able to service all around the world. For more details, pls feel free to contact us!