HongEr at FABTECH Mexico 2019
FABTECH Mexico, 2019 - Monterrey


Date: 7-9, May, 2019
Address: Cintermex, Av Fundidora 501, Obrera, 64010 Monterrey, N.L., Mexico
About FABTECH Mexico 2019

FABTECH Mexico is the primary gathering for leading metal manufacturers in Mexico.
The co-located event will bring together 575 exhibitors and cover more than 140,000 net square feet of show floor. Over 13,000 attendees from Mexico and South America will converge on the Cintermex to find solutions, network, learn and experience first-hand the latest innovations in the metal forming, fabricating, welding and finishing industries.
For small and medium-sized companies that wish to gain competitive advantage, the way forward is to embrace the latest equipment technologies, this is the perfect place to discover how to do so. We will be in attendance showcasing our latest
coil handling equipment
, an ideal solution for coil feeding in metal stamping manufacturing.
HongEr pressroom automation at FABTECH Mexico
HongEr will be exhibiting at FABTECH Mexico and meeting with existing customers as well as making new contacts.
We will be showcasing our latest coil handling equipment, an ideal solution for coil feeding in sheet metal stamping, we hope you can make time to visit HongEr at Stand 337.
Precision coil handling: uncoiling, straightening, feeding
At FABTECH Mexico this year we will be displaying our latest and most popular compact coil feeding line GLK series.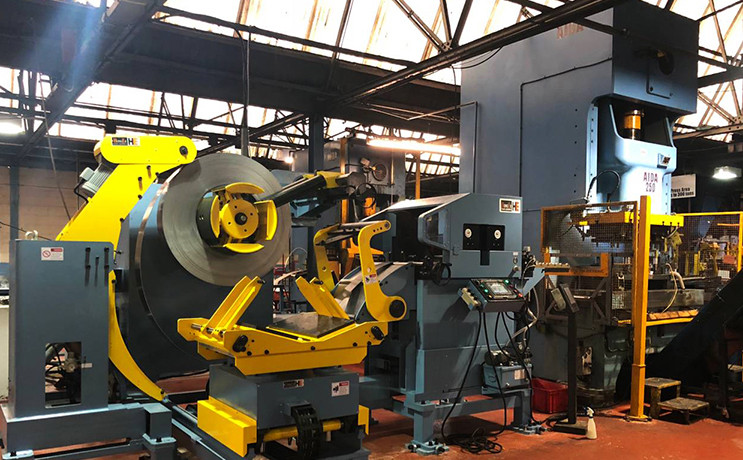 GLK COMPACT COIL FEEDING LINE
GLK series is a type of press room automation equipment, we call it Decoiler Straightener Feeder 3 in 1 or Compact Coil Feeding Line.
This equipment contains decoiler, straightener and feeder unit, sometimes equipped with lubrication and shearing unit.
Combined HongEr innovative machine structure and international brand electrical system, it can process metal coil with the very best straightening performance and high precision feeding.
Most of our GLK decoiler straightener feeder can be customized according to customer's specific product application.
See our combined decoiler straightener feeder machine GLK series on stand 337 at FABTECH Mexico.

Our team at FABTECH Mexico will be on stand 337 to answer any questions you may have on strip coil handling and how they can improve the profitability of your metal stamping business!
If you would like to speak to us sooner, you can always contact us by:
Email: export@he-machine.com